NEXTGEN DMS - DEALER & DISTRIBUTION MANAGEMENT SYSTEM
NextGen DMS Dealer & Distribution Management system.
Solution: Real Time secondary sales visibility to Manufacturer with digital connectivity through Distributor through Retailer for Order fulfilment, Returns tracking, Claims settlement, Inventory Visibility, Promotions, Payments & Salesforce Automation.Value Proposition:About 5% to 10% increase in demand generation and ~10% on cost-reduction.
RealDemand is the next gen Dealer and Distribution Management system designed to give better visibility of goods to OEM in the Distributor/Dealer network right up to the Retailer providing Secondary sales visibility and reconciliation between different entities in the value chain.
Challenges
Disjointed Systems – Dealer & Retailers connecting to OEM
Inventory – Over, Understocking & Stock Outs at multiple locations– Loss of business, High COPQ
Demand fulfilment Visibility – delivery delays
Lack of real time Secondary Sales data & in-transit goods tracking
No digital communication between OEM & Stores
Dealers Collection Reconciliations is nightmare
Lack of visibility in Trade Plans, Financial Transactions & Claim Disputes
Lack of standardization to all stake holders related to Schemes & Discounts at product level
Difficult for OEMs for E2E reconciliation of actual ordering Vs Fulfilment and the business impact
Difficulty in tracking sales officer's performance who are in the field
Blockchain powered DMS:
Uniform Master data across the chain (OEM – Dealer – Retailer)
Ensure orders do not breach pre-set credit limits for customers
Enables real time updating of inventory, ensuring optimum stock at distributor and zero stock outs at retailers.
Place primary orders, Generate GRN's, bill to retailer with Online invoicing option. Track Deliveries with Geo locations and time stamps
Distributors can mark complete and partial deliveries can take returns based on SKU or invoice
Run various types of schemes and discounts both at distributor and Retailer level
Sales target can be set and monitor employee's performance
Manage your field force with real time geo location-based tracking and productivity reports.
Capture all types of data including images, survey information, market intelligence and much more
Business Benefits
SaaS based Solution Offering
Secure, Auditable, decentralized digital Information reconciled real time
Seamless Integration / Transition to the existing application
Better visibility of market demand, supply, state/region wise
Elimination of Order Management issue
Auto reconciliation of Orders / Delivery / accounts Receivables
Tracking of Sales Performance (RSM & ASM)
Real time delivery operations, on field collections
Efficient Beat management
Dealer Credit tracking
Digital Connectivity & Integration
Tamper Proof Auditable Digital Ledgers
Hassle Free Documents Flow
All Stake holders can have real time view on Presales Numbers
Auto Reconciliation of payments against parties reducing manual processes thus reducing time & reconciliation errors
Visibility to all stake holders related to schemes & Discounts, Sales Targets, Claims & Disputes
New Distribution Management System leading to YoY productivity improvement of 8 to 10% to One of the Leading British multinational consumer goods company (Source: Mind tree report on supply chain distribution).
User Login Page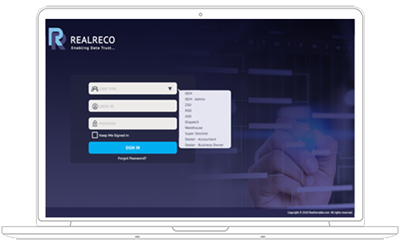 Performance Analysis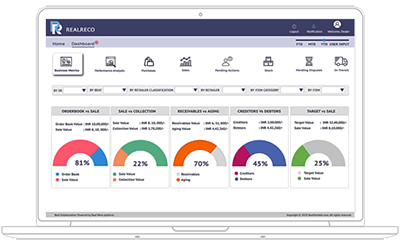 Sales - Collections